The best possible start for your child…
Welcome to Reception@Ballard, a place where children flourish, have fun and develop their love of learning.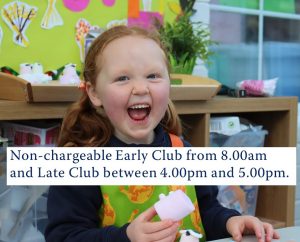 As an ISI 'excellent & outstanding' school, we offer so much more than many schools across all areas: academic, sports, STEM, and the arts, which are so important to children's development. Already in Kindergarten we offer specialist teachers for Dance, PE, Sport, Music, Gymnastics, and Forest School, and in Reception we continue to build on these foundations. We also introduce specialist Yoga and mindfulness sessions in Reception and from Year 1, French.
We have fantastic facilities, and our Governors are committed to an ambitious investment plan; investing in our children's future.
This balance of academic, pastoral and co-curricular develops the whole child, providing essential skills for their future. Digital learning with iPads and 75" interactive screens, sits alongside life skills, forest and beach school as well as more traditional activities. Children enjoy cooking, art and 'Meet the Librarian' sessions. They also have fun with daily maths, literacy and reading, alongside topic-led lessons, all delivered by our experienced year group specialists. We strongly believe that busy, happy children do well in the classroom and although we can't share all our highlights with you, we can let you know that in Reception:
We have some fabulous independent readers;
Visitors often comment on fabulous writing;
Children all speak confidently and eagerly in circle time discussions using a wide range of vocabulary to express their ideas, thoughts and reasoning.
They take an interest in and talk about different cultures, communities, and the natural world around them
They are always eager to transfer the skills they have learnt in Maths and Literacy activities to their own independent activities.
They will confidently write stories to go with their pictures and practise writing sums, some up to 100, for fun.
An example timetable may be viewed here. Please note that all timetables are subject to change each September and some change termly.
Our children thrive in and out of the classroom with our small class sizes and outstanding opportunities, including many activities and trips.
Ballard's nurturing community offers a holistic education which helps children to reach their full potential, instilling a love of learning, building resilience, and having lots of fun on the way. Come and visit us to find out how we can help you and your child to chose the right path.
Contact our Registrar, Laura via email – registrar@ballardschool.co.uk or by calling 01425 626900.