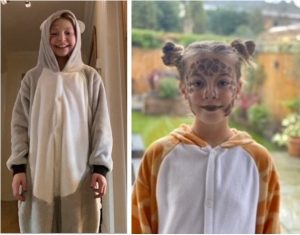 Thanks to Lily and Mia in Year 5, our Lower Prep children held a fancy dress animal/PJ day to raise money for Marwell Zoo as both girls are passionate about supporting animal life, especially during these difficult times. It provided much-needed fun for the children (and staff!) during online lessons and for the children of keyworkers at School.
The girls did a fantastic job in organising the event and have smashed their original target of £150, raising over £1,000.
Mr Ridley, Head of Lower Prep, had promised to dress up as a penguin if the girls reached their fundraising target and true to his promise, pupils were delighted to see his amazing outfit.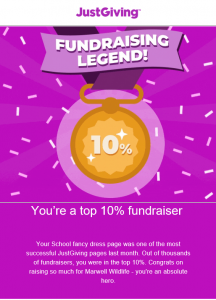 We are immensely proud of Lily and Mia and all of our inspirational pupils at Ballard. Keep up the good work!
The girl's fundraising efforts were so successful that they were awarded a 'Fundraising Legend' award from JustGiving as they were one of the most successful fundraising pages on JustGiving in January.
Lisa Reynolds, Head of Supporter Development at Marwell Zoo, was so impressed with the girl's initiative, that she personally wrote to thank them both;
"Dear Lily and Mia,
 
I see you have set up your Just Giving page now and your donations are doing really well!
I wanted to wish you the best of luck for your animal/pjs day, not that you need it. In unity, I shall wear my animal print pjs all day, it's nice to have an excuse!

Have a great time and thank you so much for your support."
If you would like to contribute to this worthwhile cause, you may do so here.


Marwell Zoo were very grateful for our School's fantastic fundraising effort and sent us a personal thank you message: